Your spine consists of 24 small bones called vertebrae, which run from your pelvis up to the bottom of your skull. Every day these small bones, especially the ones in your lower back, are tasked with supporting your weight and absorbing shocks. The constant pressure compresses your vertebrae and can result in back pain. Stretching your vertebrae by hanging from a chin-up bar can decompress them and relax your back. Your arms and shoulders also get a good stretch.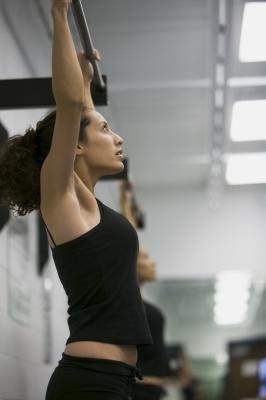 (Photodisc/Photodisc/Getty Images)
Things You'll Need
Weightlifting gloves (optional)
Wrists straps with hooks (optional)
Step 1
Remove rings and other jewelry from your hands and put on weightlifting gloves if the chin-up bar has a rough surface that might hurt your hands. Alternatively, use wrist straps with weightlifting hooks to make it easier to hold yourself up.
Step 2
Grab the overhead bar with an overhand, shoulder-width grip so your palms face away from your body.
Step 3
Raise your feet and bend your knees 90 degrees so your lower legs are parallel to the floor as you're hanging from the bar. If the bar is high enough, straighten your legs so your feet hover above the floor.
Step 4
Align your head, shoulders, hips and knees and relax your entire body. Allow gravity to take over as you breathe through the stretch and visualize your spine lengthening. Hold this hanging position for 10 seconds before releasing the bar and returning to an upright stance for a short rest. Repeat the hanging stretch three times. As you get stronger, gradually increase the duration to 30 seconds and ultimately aim to hold yourself in the postion for one to two minutes.
Promoted By Zergnet