When you hear the word "sprint," you might think about running a 100-meter track race or hauling yourself up and down a soccer field. However, a sprint is simply defined as going top speed for a short distance. Do sprints on a bike if you want to include maximal efforts in your workout but can't withstand the pounding of running or if you bike as your primary form of cardiovascular exercise. There are a few things you should do before sprinting on a bike at the gym.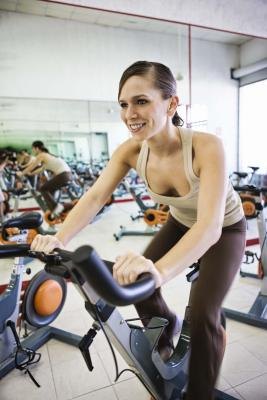 (Jupiterimages/Brand X Pictures/Getty Images)
Step 1
Secure your feet to the pedals. The majority of gym bikes have adjustable toe loops that hold your feet securely to the pedals. Slip your toes as far as you can into the toe cup and pull up on the adjustment strap until your shoe is held snugly. As an alternative, some gyms offer special cycle shoes that clip right into the pedals. Once you're sure your feet aren't going anywhere, warm up by pedaling easily for at least five minutes.
Step 2
Adjust the pedal resistance to moderate. Momentum in the pedals and wheels of the bike can build up and cause you to lose control if you try to sprint with too little resistance. When you are pedaling during your warm-up, play with the resistance level until you feel as if you are biking on a flat road against a light breeze. When you are ready to sprint, increase the resistance until it feels as if you are biking against a strong wind. For this, you'll have to make about one full turn of the resistance knob.
Step 3
Focus on both the up and down motion of the pedal. As you begin your sprint, think of the sprinting motion as having two parts -- the push and the pull. Focus on one leg and think about pushing it down on the pedal hard and then pulling it back up against the secured toe loops. Begin with a comfortably fast speed until you are familiar with this cadence and then gradually increase your speed.
Promoted By Zergnet