According to the McKinley Health Center, there's a 40 to 70 percent risk of reinjuring your ankle after injuring it. By properly rehabilitating your ankles and keeping them flexible, you can prevent yourself from becoming part of this percentile. The ankle consists of four bones: the talus, tibia, calcaneus and fibula. These bones are surrounded by several stabilizing ligaments. If these ligaments get injured, dorsiflexion or backward bending of your ankle might be difficult. A towel stretch can help you regain this range of motion in your ankle.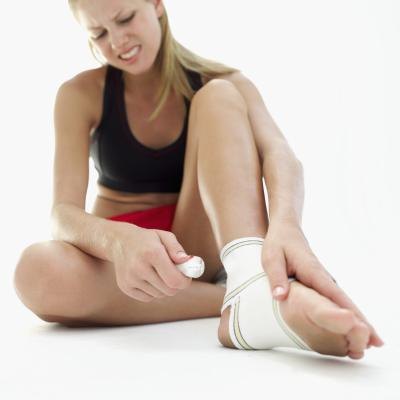 (Stockbyte/Stockbyte/Getty Images)
Step 1
Sit on the floor, extend the affected leg forward and flex your toes. Keep your other leg bent in a comfortable position.
Step 2
Wrap a towel over the ball and toes of your foot and hold the ends of the towel in your hands.
Step 3
Bend your ankle back as much as you comfortably can. Imagine bringing your toes closer to your upper body. Keep your leg still and only move your ankle.
Step 4
Pull the ends of the towel gently toward your upper body to emphasize the stretch. Hold this position for 10 seconds before releasing the tension. Repeat the stretch up to three times in one stretching session. As your ankle gets more flexible, gradually increase the duration to 30 seconds.
Promoted By Zergnet