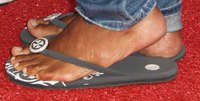 A favorite staple of summer fun, flip-flop sandals are typically exposed to intense sun and water. Immersing the leather versions in pools then setting them by a beach chair to dry is a fast way to dry out the leather, eventually causing shrinkage and possible cracking. Cleaning and conditioning the leather with mink oil helps rejuvenate the sandals while providing additional water resistance.
Things You'll Need
Tin of mink oil
Clean cloth
Wipe off any excess dirt and contamination with a moist section of the cloth. Focus extra effort on salt stains or other discoloration.
Blot dry the leather as much as possible. Let the sandals air dry away from direct heat.
Swirl a different part of the cloth in the mink oil. Wipe the leather evenly with the oil, applying pressure to work it into the leather.
Wipe off excess oil with the cloth. Let the sandals dry overnight, further allowing penetration of the oil into the pores of the leather.