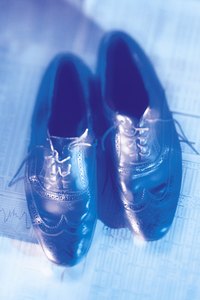 Well-made wingtip shoes are hard to find, so good ones are often worn for years. At some point, however, favorite shoes need a little -- or a lot -- of TLC. Unless the leather is ripped, old wing-tip shoes can almost always be brought back to life with the right tools.
Things You'll Need
Shoe brush
Nail polish remover
Three clean rags
Cedar shoe trees
Hair dryer
Saddle soap
Shoe polish
Pull out the laces and remove any dirt and debris that is visible on the shoes. Use a shoe brush to stroke the shoe, especially over any creases in the leather where residue can get embedded.
Remove old shoe polish. Wet a clean rag with nail polish remover and wipe any areas that appear to have polish left on them.
Repair any noticeable creases. Place a cedar shoe tree into each shoe and screw it into place so that it fits tightly and stretches out the leather's wrinkles. Turn a hair dryer on high and aim it at the creases, holding it about 6 inches away. Hold it for a minute or two, until the creases are smoother.
Clean the shoe with saddle soap. Dampen another cotton cloth and swipe along the surface of the soap. Rub the cloth onto shoes until a lather develops. Wipe the shoes with a dry cloth to remove any excess soap.
Polish the shoes. Wipe another cloth along the shoe polish wax and rub it onto the shoes in a circular motion. Work over both of the shoes. Allow the polish to sit for five minutes, then buff it to a shine using a shoe brush.