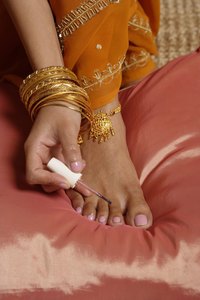 You've finally found the fuchsia dress of your dreams, but finding a nail polish to go with the dress is quickly becoming a nightmare. Fuchsia, a combination of red and purple, often proves to be problematic when deciding on complementing beauty schemes because of its highly saturated nature. Fortunately, the color wheel is a finely tuned instrument and works well as a rosetta stone when translating color variations.
Things You'll Need
Nail polish remover
Cotton swabs
Internet access
Color wheel
Color Selection
Open your Internet browser and select a nail polish color wheel from one of the Sessions College for Professional Design (sessions.edu) website and access the institution's Color Calculator at sessions.edu/color-calculator.
Input the Web programming language known as HTML for the value for fuchsia in the section marked "Pick A Color." The HTML value for fuchsia is #ff00ff. Ensure that the color on the screen is fuchsia.
Move on to the next section on the website titled, "Choose a Harmony." Select the third option, it will be marked "Analogous." Analogous colors are matching colors that are close to one another on the color wheel.
Move on to the section titled "See Results." This section now illustrates a visual example of two analogous colors, as well as their HTML values.
Make a note of the color values. They are #ff0080 (dark red-pink, in the flamingo-rose family) and #8000ff (a shade of blue-magenta in the lavender-violet family). Each color is oppositely juxtaposed to fuchsia on the color wheel.
Select either color and purchase the exact color, or a shade variant from your local cosmetics retailer.
Apply nail polish remover to a cotton swab and apply to nails until all previously applied polish coats are removed.
Apply nail polish to fingernails and/or toenails.
Allow to dry for 10 minutes.