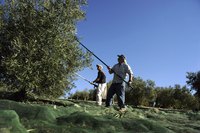 Modest in its dusty-gray foliage, the olive tree (Olea europaea) has been the stuff of myth and legend for centuries. Athena, daughter of Zeus, is said to have won the right to be the patroness of Athens by creating the first olive tree, and the olive twig has been associated with peace from biblical times. Closer to home, olive trees, depending on the variety, thrive in U.S. Department of Agriculture (USDA) plant hardiness zones 7 though 11, where a backyard olive orchard allows gardeners to harvest their own fruits by hand. Although commercial producers experiment with mechanical harvesting to reduce the costs of the labor-intensive effort, the branches and olives suffer.
Things You'll Need
Nylon olive nets, burlap or a different tough fabric
Ladder
Wooden stick (optional)
Plant to harvest olives on a sunny day before winter rains. Avoid harvesting on foggy or windy days because moisture spoils the fruits. The olives are ripe for harvest about six months after the trees flower, but you can harvest them unripe or ripe -- green or black, respectively.
Spread nylon olive nets under the olive tree. These specialty nets are slit up the center like trousers. Slide the nets around the tree's trunk, covering the entire area beneath the tree. Alternatively, spread sheets of burlap or a different tough fabric under the tree.
Position a ladder so that, standing comfortably on it, you can reach the tree's top branches. Climb up the ladder to the appropriate level. Slide your hands over the tree's branches, gently dislodging the fruits as if you were removing beads from a broken necklace. Allow the olives to fall to the ground without trying to direct them to any particular part of the nets or other fabric. Move the ladder as necessary to clear olives from the top of the tree.
Stand on the ground to harvest olives from the middle and lower sections of the tree. Assign three people to a tree for the most efficient harvesting, with one person on a ladder and two on the ground. Alternatively, beat the tree branches with a wooden stick to cause ripe olives to fall.
Position crates or baskets near the harvest area. Lift the net or other fabric from the ground when you are finished harvesting one olive tree. Lifting the net or other fabric is a task best accomplished by more than one person. Act with care to minimize spilling the olives. Pour the olives from the net or other fabric into the crates or baskets.
Return to the tree with an empty crate or basket. Gather all olives that bounced from the net or other fabric when you harvested and those that fell before you began harvesting. Repeat the process tree by tree until all the olives are harvested.