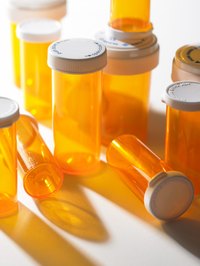 Your local pet store has beaucoup cat toys to keep your favorite feline entertained, but you can save a buck or two by making simple toys with what you have around your house. A simple pill bottle with a lid will work. Fill it with ballast that makes the bottle make a bit of noise. Free, fast, fun.
Things You'll Need
Empty pill bottles
Soap and water
Bells, beans, cat food or rice
Remove labels from the prescription bottles you intend to use for toys. This helps differentiate which bottles are toys and which ones have your morning medication in them. In addition, loose labels may attract chewing and nibbling by your little feline and the adhesive, ink and paper can be hazardous.
Thoroughly wash and rinse the empty pill bottles to remove any medication residue. Allow the bottles to dry completely to avoid trapping moisture inside.
Fill the bottles with various small objects such as bells, beans, rice or cat food. Place the lid on the pill bottle, ensuring it snaps secure. Give the container a roll and watch your cat come running.