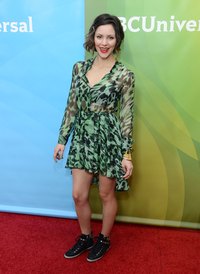 Sneakers make a sensible shoe choice when you plan to stroll the mall or stand for a long time, but these sporty shoes can look plain -- even masculine. When shopping for sneakers, look for shoes that have girlie touches or pair plain sneakers with a feminine outfit to soften the look. No matter your age or personal style, you can express your femininity with a stylish outfit that includes sneakers. Buying shoes in traditionally feminine colors such as shades of pink is a simple way to achieve this look.
Things You'll Need
Lace shoe strings
Colored shoe strings
Lace-edged socks
Dress
Scarf
Handbag
Black and white dress
Pink scarf
Turquoise flower pin
Colored jeans
Fitted T-shirt
Military-inspired blazer
Colorful shoe laces
Fitted vest
Cropped shorts
Ruffled shirt
Replace the laces in your shoes with lacy ties or complementary colored strings. The laces should be long enough to tie them in a dressy bow at the top near the ankle or at the bottom, near the toes.
Pair your sneakers with lace-edged socks. Wear socks that have a feminine pattern on them -- hearts, for example.
Pair sneakers with a dress, scarf and casual handbag. Take a monochromatic, or black and white, approach to your outfit. Wear black sneakers with a black and white dress. Add a pop of color with a bold pink scarf, or a turquoise flower pin for your purse.
Mix feminine and masculine wardrobe touches for a fashionable outfit. Wear colored jeans with a fitted T-shirt. Complete the look with a military-inspired blazer and tomboyish sneakers. For feminine touches, replace boring sneaker laces with bold colored laces and wear a fitted vest over your T-shirt.
Dress casually with cropped shorts, a ruffled shirt and a pair of sneakers.