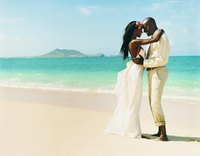 Once you've picked a long chiffon dress for the wedding, whether you're a guest or the bride, you have to find the right shoes to complete your look. The shoes, of course, must look fabulous, but don't skimp on comfort. At an outdoor wedding, your shoes may need to stand up to wet grass, mud, puddles or sand. Shop for a pair of shoes that look good and feel good, whether you're a family member, an attendant or a guest.
Scope out the venue and conditions, both for the well-being of your dress and your shoes. Think about how far you'll have to walk and the type of terrain you'll be navigating. Prepare for pavement or gravel, sand or grass, as well as how far you may need to walk from a parking or dressing area to the site of the ceremony or reception.
Assess the weather potential for an outdoor wedding. Decide whether you're likely to encounter water or mud. Keep in mind the length of your dress and the type of shoe that will best survive the elements.
Choose shoes with a flat sole to accommodate difficult walking conditions, including sand or mud. Opt for a wedge style if you prefer height, or a ballet flat or low-heeled sandal for a more relaxed look. Shop for a beaded or embellished flat or sandal for a dressier style. Take your shoes to dress fittings and alterations to make sure your hem isn't too long or too short with your shoes on.
Use heel protectors, or covers that widen the point of the heel of your shoe, if you're committed to wearing high heels or expect to be on flat, dry ground most of the time. Clear heel protectors are nearly invisible and are made to fit various styles. They will prevent damage to your shoes, while keeping your heels from sinking into wet ground. Choose wider heels, rather than a narrow stiletto style, for comfort and stability if you have a long walk or will be walking on rockier ground. Opt for a heel if you have a long chiffon dress that shows your ankles, prefer the additional height, or are wearing a long dress with a high-low hem.