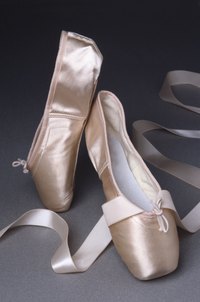 Creating decorated pointe shoes is one way to show off a dancer or dance lover's passion and creativity. Pointe shoes are beautiful and functional for a dancer. But what do you do when the (expensive) pointe shoes are worn out? Get out your glue, sequins, ribbon, and markers. The shoes can easily be re-purposed to create a unique decorative addition to any dancer's room.
Things You'll Need
Pointe shoes with ribbons attached
Small bowl
Baking soda
Water
Soft cloth
Hot glue gun
Articficial flowers
Pearls
Ribbon
Permanent marker
Decorating Pointe Shoes
Combine a small amount of baking soda with a bit of water in a small bowl to form a paste.

Apply the paste to any stains on the satin pointe shoes and -- using the soft cloth -- rub it in gently.
Let the paste to dry overnight.
Wipe off the paste. Your satin should be much cleaner.
Trim the stems of three small, flat-backed artificial roses to create a flat surface.

Put a dot of glue -- using a hot glue gun -- on the back of one rose and attach the rose to satin near the middle of one shoe's toe box (the square part of the shoe where the toes fit).
Put a dot of glue on the back of a second rose and attach to the satin to the right of the first rose.
Put a dot of glue on the back of a third rose and attach the rose above the first and second roses, leaving a small open area in the center of the three roses.
Add a dot of glue to three small pearls and place them in the center area.
Apply a dot of hot glue to a length of ribbon and attach the bottom corner of the start of the ribbon so it is hidden under the first rose. Fold the ribbon in a ruched pattern as you go, and continue to glue down the bottom of the ribbon, hiding it under the roses, until it is attached all the way around the circle of roses in a ruffled pattern.
Use a permanent marker with a fine tip to write a name, such as "Michelle," or a word, such as "Dance," on the satin of the other shoe's toe box in a flowing script.
Let your decorated shoes dry overnight.