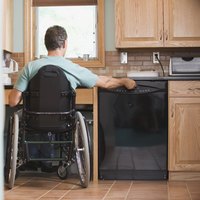 Social security disability or SSD is a benefit paid out by the Social Security Administration. The SSA provides assistance to those with a qualifying disability through its Social Security and Supplemental Security Income programs. Disabilities must be permanent to receive benefits. The SSA does not award benefits for either a partial or short-term disability. The length of time it takes to obtain the SSD benefit can vary based on a number of factors.
Complete the Benefit Eligibility Screening Tool or BEST on the Social Security Administration website to determine your eligibility for benefits. This tool walks you through the process of knowing what types of benefits are available and whether or not your condition qualifies.
Fill out the application for your social security disability benefit if you qualify based on the criteria provided by the Benefit Eligibility Screening Tool. Individuals are able to complete the application online, but this method has at least one major disadvantage. Doing so will not provide you the opportunity to have any of your questions answered, so it's ideal to visit an SSA office to complete the application in person with the help of a qualified SSA worker.
Wait for the evaluation process to play itself out. Each SSD claim is evaluated on an individual basis and the process often takes a considerable amount of time based on the number of other applications submitted around the time you submitted your claim.
Expect the process to take up to 4 months. While the SSA does not provide any specific length of time that you should expect to wait to receive your benefits, various websites dealing specifically with the topic of the social security disability payment indicate that the process can take as little as 30 days, but generally takes somewhere closer to 90.
Make an appeal if the SSA denies your claim. If you feel that you have valid claim to your benefit and it is denied, appeal for a hearing before a judge who specializes in hearing disability claims. The backlog of cases makes this process take several months to more than a year.