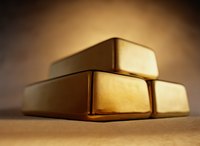 Physical commodities are also known as nonfinancial futures because successful trade and investment hinges on the future price of the commodity. Types of physical commodities include oil, metal, wood and agricultural commodities, such as wheat and corn. Ideally, financial managers trade one physical commodity for another, then the price of the commodity rises while in the manager's custody, allowing the financial manager to trade the commodity for more than it was initially worth. Trading physical commodities involves assuming the risk that the price of the commodity falls while in the hands of the organization, forcing the company to take a loss.
Determine how you'd like to trade the commodities. Options include direct investment, buying shares of commodity companies and exchange-traded funds. Exchange-traded funds track the price of the commodities and can be traded like stock, but the performance is tracked on a specific index, such as Standard & Poor's 500 or Deutsche Bank's PowerShares.
Research the commodities trading market or hire a Commodity Trading Advisor, also known as a CTA. Commodity trading may be complex or confusing and guidance can be helpful in knowing what commodities to buy, when to buy a commodity and how to purchase the goods.
Decide which commodities you'd like to trade. Popular options include gold, silver and oil. Consumables such as crops, fabrics and other raw materials may also be traded, but perishables are riskier because they cannot be held for as long as more durable goods.
Purchase your chosen commodities. You can buy the commodity directly from the producer or from another commodity trader. If you plan to trade commodity stock instead of physical goods, you'll need to buy from a securities trader.
Track the performance and price of your held commodity using a trustworthy index. Commodity indexes often update the current price of commodities several times a day.
Sell or trade your commodity when the index price matches your expected return rate. For example, if you wanted to make $3.50 per unit of goods, sell or trade your commodity when the index goes up $3.50 per unit of goods. If the index does not meet your expectations, sell or trade when the index price seems reasonable.
Buy more commodities using some of the revenue you earned from your recent trade. You may skip this step if you traded for more commodities. You may need to periodically re-evaluate the market to determine which commodities offer the most lucrative trading opportunities.