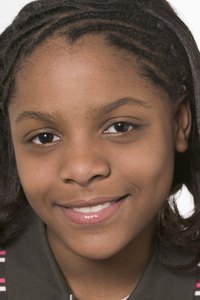 Hair braiding is a technique that often intertwines three separate strands of hair to create a tight and uniform plait, or braid. For individuals with short to medium hair, braiding hair to the scalp often manifests itself in the West African style of braiding, referred to as corn rows. The braiding can sometimes be painful, but if it's done properly, they can stay tight and last for several days.
Things You'll Need
Water bottle
Detangler
Comb
Apply detangler and water to your hair, running a comb through it to remove any tangles or curls that can get in the way of your braid.
Part your hair at the exact spot where you want your braid to begin. This spot is often at the crown of your head, although it can start anywhere depending on preference. Place the sides of your hair that are not being used in the braiding process in pigtails or in hair ties to avoid confusion during the braiding process.
Lift up a small section of hair with your fingers, using this piece to begin your braid.
Separate the section into three smaller sections, holding the three separate portions of hair in your hands. Take the section of hair that is farthest to the right and cross it directly over the middle section of hair. Take the left section and cross it over the section that is now the new middle section. Take the right section, crossing it over the middle again. Repeat this pattern until you have two full stitches to establish the braid.
Hold the two outer strands of the braid to the side, grabbing extra hair from under the initial braid and adding it to the middle section of the braid. Make one braid using the additional hair in the same technique you used initially. Unlike regular braids, which hang off the scalp, adding additional pieces of hair as you braid will keep the braid tight to the scalp.
Repeat the pattern, grabbing more and more hair for the center section after each braid you perform. Continue to braid until you have finished a row down the back of your head. Secure the braid with either a bead or hair tie. Repeat the process as many times as you see fit.