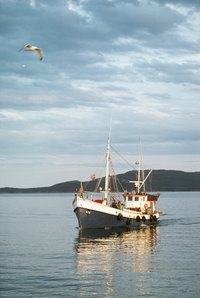 Isinglass is a a transparent gelatin, obtained from the air bladder of some types of fish. It has many uses, including the manufacturing of boat windows. Keeping your isinglass clean is an important step towards keeping it clear and transparent. However, there are certain guidelines that you should follow during the cleaning process. This is a project that you can do on your own without the help of a professional, providing you have the essential items available.
Things You'll Need
Chamois cloths
Detergent
Bucket
Rinse off the salt debris from the isinglass thoroughly with water before cleaning it. Use a hose or a spray bottle. This will prevent the salt crystal from scratching the isinglass. Dry with a clean chamois cloth.
Add 1 teaspoon of mild dish-washing detergent to 2 cups of water in a spray bottle.
Spray the soap solution on both sides of one isinglass window panel. Cleaning one window panel at a time will prevent hard-to-remove water spots. Use a chamois to wipe the window panel in a straight line from top to bottom. Wipe the other side of the window panel using the same motion.
Use another clean, dry chamois to dry the window panel in the same direction as you wiped it.
Repeat steps 3 and 4 for each window panel. Rinse out the chamois after wiping each window, then dry it with a clean chamois.