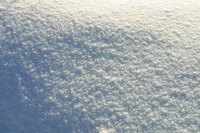 Blue powder dye is usually found commercially through professional manufacturers such as RIT or Rose Art. However, you can make a powder dye at home using some household items you likely already have on hand. These homemade powers are straight-forward and simple but often are not permanent dye options. If you're looking to pass time with a craft project or fabric item that does not need to outlast the natural fading tendencies of time and weather, consult your pantry shelves for dye ingredients.
Things You'll Need
Flavors of unsweetened powder Kool-Aid or similar drink mix (lemon-line, blue raspberry, grape, berry blue)
Blue raspberry Jell-O powder mix (or other blue flavor)
Sandwich bags
Water
Petroleum jelly
Hair conditioner
Purple or blue flower blossoms
Mortar and pestle
Stone
Use Kool-Aid or other drink mixes. There are many powdered drink mixes on the market, some of which may already be on your kitchen shelves. Kool-Aid is one of the most popular options for simple craft projects and to dye protein fibered fabrics. However, it is most popular as hair dye. To make a blue powder dye out of Kool-Aid, grab a plastic zip-top sandwich bag. Combine an unsweetened package of Berry Blue and Lemon Lime Kool-Aid powder for a turquoise dye. Mix together Blue Raspberry with Grape for an electric blue. Shake the baggie until the two powder colors are fully integrated. Store on a kitchen shelf out of direct sunlight, then make the powder dye into a paste using a small amount of water and a dab of hair conditioner.
Take that unused box of Jell-O out of the pantry to make another mock version of commercial hair dye. In the same fashion as the Kool-Aid, use blueberry, grape or other blue/purple flavors of Jell-O and mix them together to achieve the hue you want. Store in a glass or plastic container or use a sandwich bag just as you would for the Kool-Aid. This powder dye can then be used in conjunction with water, petroleum jelly or vinegar to create a useable mixture.
Flowers from the garden are also often used for homemade blue powder dye. Crush violet, pansy or geranium blossoms for a blue/violet shade. Grind the blossoms with a stone or a mortar and pestle. This will be more effective if the blossoms have been dried, but that can take away from the deepness of color they produce. Ground onion skins can also be used to achieve a light blue/purple shade.