The fall harvest has seen a whole new competition arise. Pumpkin chunkin' involves tossing pumpkins with catapults or trebuchets. Families, friends and neighbors are getting together in their neighborhoods and at festivals to build and test out pumpkin catapults.This catapult allows you to decide how much power you want to put behind those pumpkins. You can build it in one day with simple woodworking tools and materials from your local home improvement store. How far will your pumpkin fly?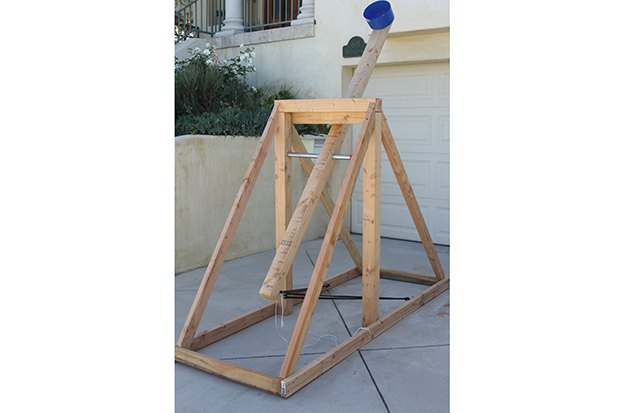 (Kraig Scheyer)
Things You'll Need
3 - 4x4 wood planks, 8 feet long

7 - 2x4 wood planks, 8 feet long

1 – 1x30" galvanized or black pipe (outside diameter 1 ¼")

8 - 3" deck screws

40 - 4" deck screws

2 - ¼"x4" eye bolts

1 – ¼"x6" eye bolt

6-8 36" heavy duty bungee cords
Small Bucket

Tape measure

Protractor (or adjustable miter gauge)

Circular saw (or table saw)

1 3/8" speedbor bit

¼" and 3/8" drill bits

Power drill

Screw driver (power preferred)
Step 1
Take one of the 8 ft. long 2x4 wood planks and cut it into 2 pieces measuring 33 inches long.
Step 2
Form a rectangle with the newly cut wood and two additional 2x4 pieces with the shorter wood pieces fitted inside the longer ones. The 2x4s should be laid out with the 1 1/2" side facing down.
Kraig Scheyer
Step 3
Screw the rectangle in place with two 4" deck screws in each corner.
Step 1
Cut two 4x4s to 60" long. Drill a 3/8" Hole halfway through each piece of wood 20" from one end.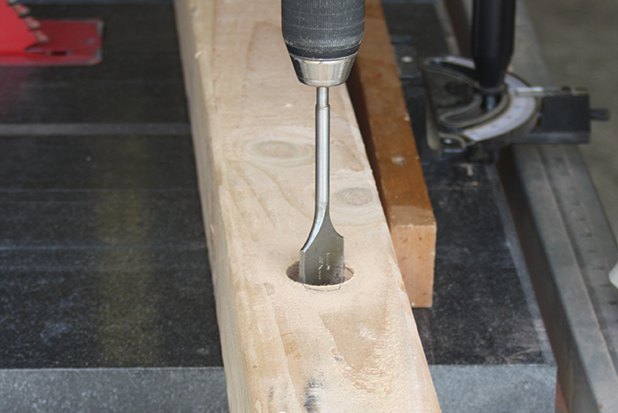 Kraig Scheyer
Step 2
Take another 4x4. Drill a 3/8" hole all the way through the wood 42" from one end.
Step 3
Assemble launching structure. Position the two 60' 4x4s to the base halfway from the ends. Thread 1' pipe thru 8" 4x4 and into the holes drilled in the 5' 4x4s. Attach the pipe to the inside of the base using deck screws.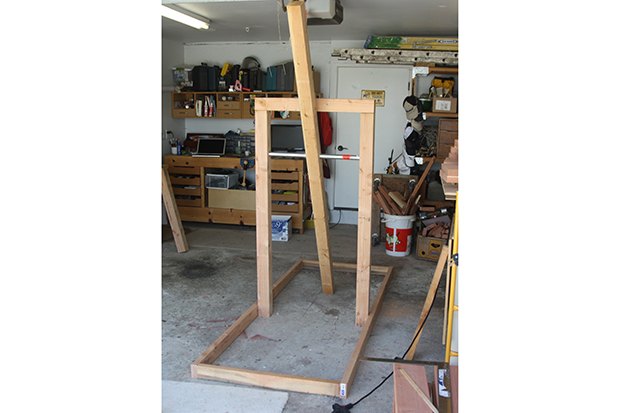 Kraig Scheyer
Step 4
Attach the 4x4 header. Cut a 4x4 to 33" and screw on top of the 4x4 posts with four 4" deck screws on each. You will need to drill holes for deck screws in advance using a 3/8" drill bit 2" deep.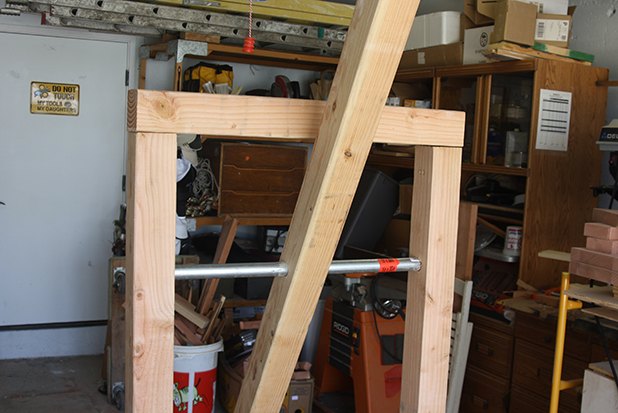 Kraig Scheyer
Step 5
Cut four 2x4s to 78 3/4" long. On one end of each 2x4, make two 35 degree angle cuts at the edge of the wood using your protractor. This end will connect to the base.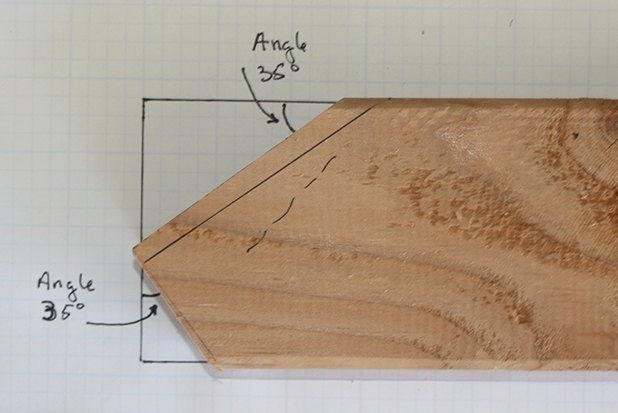 Kraig Scheyer
Step 6
On the other end of each 2x4s, make a 35 degree angle cuts. These will connect at the top.
Kraig Scheyer
Step 7
Screw the 2x4 supports in place using two 3" deck screws at the bottom and two 4" deck screws at the top.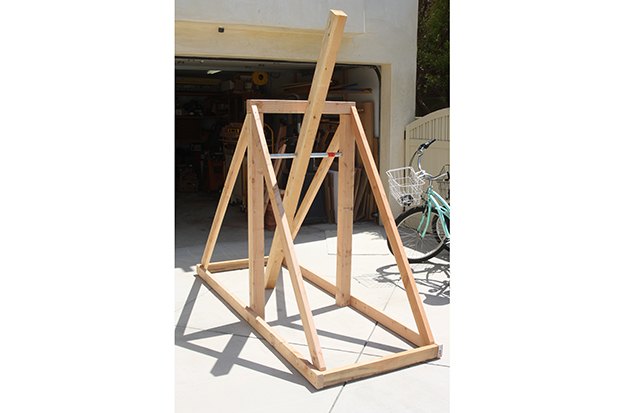 Kraig Scheyer
Step 8
Add the launching block. Cut a 4x4 to 30". Attach between the side supports on the side with the longest end of the 8' 4x4 (54" side). Screw in place using two 4" deck screws on each side.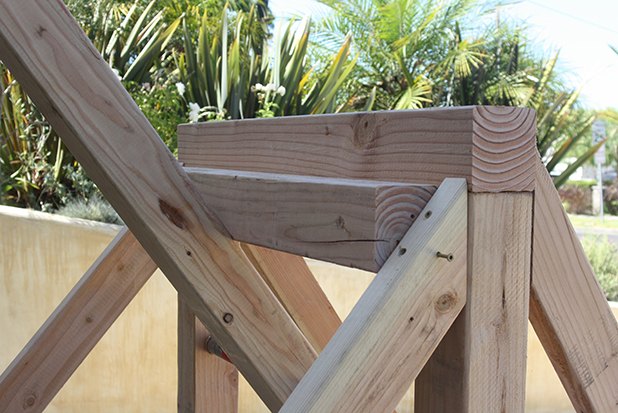 Kraig Scheyer
Step 1
Cut the bucket to 5" deep. Attach it to the top of the launching arm with screws.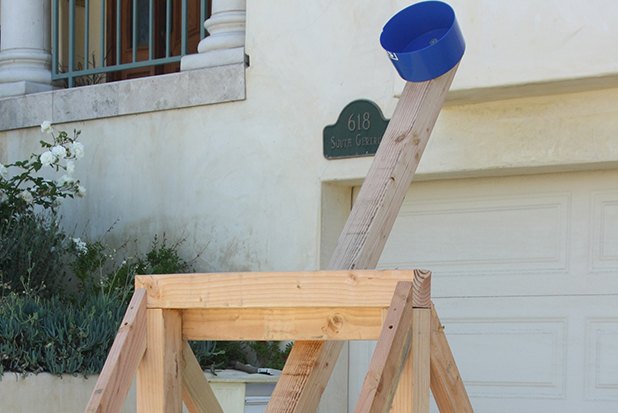 Kraig Scheyer
Step 2
Attach the eye bolts. Drill and install 4" eye bolts to the 2x4 base about 26" from the 4x4 posts. Drill and install 6" eye bolts 4" from end opposite bucket with eye on bottom of 4x4.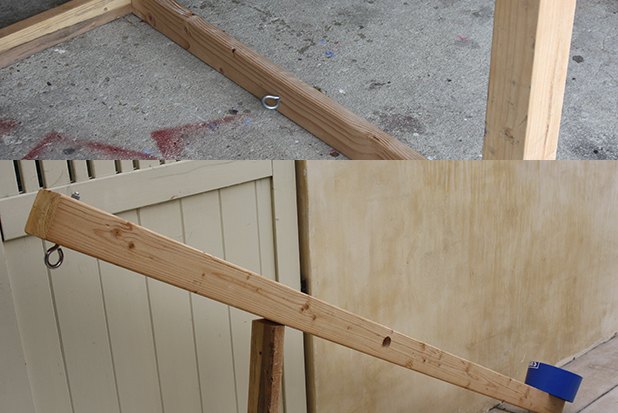 Kraig Scheyer
Step 3
Install bungee cords through the eye bolts. Hook one end of the bungee cord through the eye bolt on the bottom of the 4X4 and one end to an eye bolt on base. Put 3 bungee cords on each side. Pull back the catapult, load it with a pumpkin in the bucket, and launch!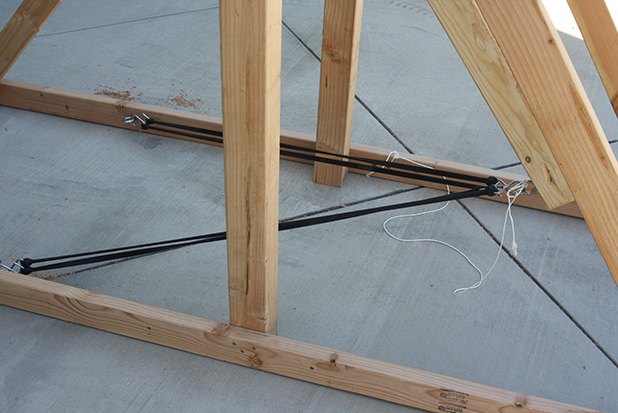 Kraig Scheyer
Tips & Warnings
When drilling the long 4x4 completely through make sure your drill is perpendicular to the 4x4 so you get a straight hole.
Make sure you do not stand in front of catapult when launching.
Be careful of your feet when launching, the wood could jump up and land on your feet.
Be careful with how many bungee cords you use. Too many could result in injury and damage to the catapult.
Promoted By Zergnet