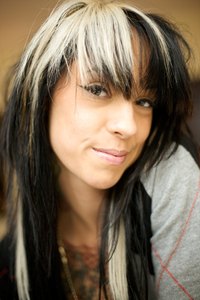 Scene hair is a unisex hairstyle; and although it is most often worn with straight hair, a curly version has become popular with celebrities. This hairstyle is suitable for people with medium-length to long hair. Scene hair is typically dyed black but often has chunks of blond, red, purple or blue distributed randomly across the head. Not everyone is familiar with the scene hairstyle, so you might have to describe the look to your stylist.
Take a good-quality photograph of scene hair to your stylist. Discuss the picture with the stylist and ask her opinion as to whether this style will suit you.
Ask a friend who already has a scene haircut that you like to go with you to the stylist. It may be better for your stylist to see this hair style on a person rather than just in a photograph.
Request a very choppy cut if you are female. Ask the stylist to dye your hair black to create the scene hair look and distribute several blond chunks randomly across your head. If you have blond hair, ask the stylist to add blue, red, purple or black as a contrast color.
Request that your hair is kept perfectly straight and that it has bangs that cover one or both eyes. Scene hair has a great deal of volume and requires the use of many products such as hairsprays, mousses, hair wax and specific shampoos.
Inform the stylist that headbands, bows or plastic hair clips are normally worn with a scene hair style, so your hair should be cut in such a way that it will still accommodate these accessories.
Tell your stylist that you need your hair to be about 3 inches long at the back and chin-length in the front if you are male. Scene hair for men is typically dyed black with a single wide streak of blond or red color.
Ask the stylist to spike the back of your hair upward and to cut bangs to hang down in front of your eyes.