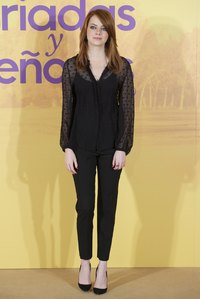 Sheer tops and blouses add an ethereal, delicate element to an outfit. But an obvious bra line can ruin the elegance of the look, and visible undergarments are not appropriate in most workplaces. To keep your bra invisible, color is key. A bra the same color as your skin -- called a nude bra -- is a lingerie-drawer essential because it creates no color contrast and is thus hard to perceive under clothing. With a nude bra and a few other basic layering pieces, you can make sheer tops appropriate for just about any social or professional setting.
Things You'll Need
Nude bra
Tank top
Black turtleneck
Sweater or blazer
Camisole
Choose a nude bra. It will be undetectable under all but the sheerest of tops.
Wear a tank underneath the top. A tank top will conceal your bra and make the top office-appropriate, and the layering will add interest and dimension. Pick a tank that is the same color as the top for a tailored look, or play with contrasting colors.
Layer a sheer blouse over a black turtleneck when the temperature drops. A sheer blouse is much too lightweight to wear alone in winter, but the turtleneck will add insulation and polish, and you'll get more use out of the blouse.
Top a sheer blouse with a cardigan sweater, a pullover or a blazer. Wear a camisole or tank under the sheer blouse, if you want the option of removing the sweater or blazer.
Pick a pretty camisole. Choose a color and texture that matches the blouse: for instance, a pale pink silky camisole under a pale pink silk blouse. Alternately, wear a nude camisole under any color of sheer top. Wear a nude bra if both blouse and camisole are very sheer.