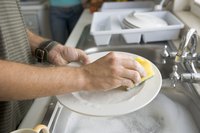 You know it's time to take action when you're rinsing a lobster under the kitchen sink in hot water and you can't tell the reddish-pink lobster from your reddish-pink, dry hands. Hot water is superior to cold and even lukewarm water when it comes to cutting through food stains and oil from dishes, but it can take a harsh toll on your hands. As long as you're in the kitchen anyway, reach for an assortment of homemade remedies, choosing among quick topical treatments, 15-minute soaking treatments and overnight treatments. Don't throw in the (kitchen) towel until you find some personal favorites.
Things You'll Need
Olive oil
Sunflower oil
Coconut oil
Lime juice
Sugar
Honey
Lemon juice or orange juice
Cream
Mashed potatoes
Glycerin
Tomato juice
Avocado
Cornstarch
Old gloves, mittens or socks
Petroleum jelly or baby oil
Margarine
Banana
Quick Topical Treatments
Drizzle olive oil over your hands and rub it thoroughly into your skin. Do the same with other lubricating oils, such as sunflower oil or coconut oil, before rinsing with cool water.
Mix equal parts lime juice and sugar and rub the mixture into your hands. The sugar granules help exfoliate your skin.
Combine equal parts honey and lemon juice and apply the mixture to your hands. The honey softens your skin while the lime helps heal it. If you don't have lemon juice, substitute orange juice. Wash it off afterward.
Whip up a mixture of fresh cream, lemon juice and sugar and massage it into your hands before rinsing with cool water.

Fifteen-Minute Soaking Treatments
Warm up some mashed potatoes in the microwave and submerge your hands in the spuds for at least 15 minutes. Wash with cool water.
Soak your hands in a mixture of glycerin, lime juice and tomato juice.
Smash an avocado in a small bowl and coat your hands with the mixture.
Warm a bowl of water in the microwave, then add a little cornstarch before soaking.
Boil 1 cup of milk, then add a few tbsp. of lemon juice. Let your hands soak once the milk cools down.

Overnight Treatments
Apply any one of the quick topical treatments before going to bed at night, then cover your hands with a pair of old gloves, mittens or socks.
Apply a thick layer of petroleum jelly or baby oil before bedtime, then cover your hands overnight.
Blend some melted margarine, a mashed banana, honey and lemon juice into a soft paste. Apply it to your hands and cover them overnight.