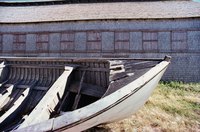 Starcraft Islander boats feature wooden transoms that are prone to rot or excessive wear. Any sign of bending, cracking or thin spots signify an unstable transom. Once rotting begins, boat owners must replace the entire transom to avoid a significant safety risk. The replacement process is time-consuming but relatively easy with a good set of instructions. As there are many model years of Starcraft Islanders, always consult an owners manual before beginning construction.
Things You'll Need
Wrench
Drill (preferably electric)
Brightly colored permanent marker (optional)
Pencil
Tape measure
Ruler
Sturdy piece of plywood
Circular saw
Fiberglass gel (optional)
Carriage bolts
Marine-grade sealant
Removing Old Transom
Remove the outboard attachment using a wrench, by pulling it off its brackets and unscrewing the base.
Locate all rivets holding the transom in place. Drill them out.
Rock the wood back and forth until the entire transom pulls out. Removing the transom intact makes putting in a new transom significantly easier.
Preparing Transom
Place the old transom on top of the plywood and using a pencil, carefully trace the outline onto the plywood. If the transom has come out in pieces, use a tape measure to carefully map the dimensions of the slot, then trace them onto the plywood using a ruler or other straight edge.
Cut plywood along pencil marks using a circular saw.
Measure dimensions for stern drive opening. Draw the opening onto the new transom using a ruler and cut opening with the circular saw.
Apply fiberglass gel on one side of new transom. Give gel a full 24 hours to dry. Flip the transom over and apply gel on the untreated side, allowing another 24 hours to pass. Though Islanders traditionally sport untreated wood, the coating of fiberglass will make the transom stronger and more resistant to rot and wear.
Installing Transom
Identify rivet holes. Line the transom up to the slot and use carriage bolts to secure the new transom into old rivet holes.
Coat the new transom with a marine-grade sealant, paying special attention to seams. Allow it to dry for 72 hours.
Reattach the outboard motor.