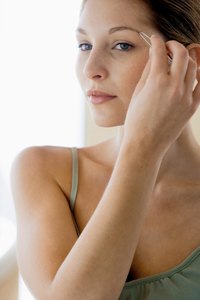 Keeping your eyebrows well groomed will greatly enhance your appearance and bring out your eyes. Everyone has a natural eyebrow shape, but unfortunately, it's not always the ideal one for you. You don't have to accept your natural eyebrow shape; you can change it to one you would like more. For example, if you dislike your straight eyebrows, give them a curve to better accentuate the rest of your features. You need a few beauty supplies and about 30 minutes to curve straight eyebrows. Following initial shaping, short maintenance sessions are all that is required to keep their new shape intact.
Things You'll Need
Eyebrow pencil
Well-lit mirror
Paper towels, cotton balls or clean washcloth
Long, thin object, such as a pencil, chopstick or dowel rod
Eyebrow tweezers
Use an eyebrow pencil to draw in a curved shape on your eyebrows in front of a well-lit mirror. This will give you an idea of how the style will look on your face and ensure that it's something you want. Once your eyebrows are shaped, they will take a long time to grow back. If you have doubts, take time to consider them.
Wash off the penciled shape with warm water and paper towels, cotton balls or a clean washcloth. Dry your eyebrows thoroughly and smooth the hairs to their natural growth pattern with your finger.
Place a long, thin object against the left side of your nose and line it up with the inner corner of your left eye. Use the eyebrow pencil to mark the point where the object intersects your eyebrow. This point is the ideal inner stopping point for your brow. Keep the object against your nostril, angling it until it lines up with your left eye's outer corner, then mark where it intersects your eyebrow with the pencil. This marks the best stopping point for your outer brow. Repeat the marking process with the right eye, placing the object against the right side of your nose.
Mark the point where you would like the center of the curve to be on each eyebrow. Ideally, this should be somewhere above the iris when you're looking straight ahead. Leave at least half of your eyebrow hairs above the mark to prevent overthinning. Make sure that the marks are even on either side.
Start plucking hairs that extend past the inner and outer marks using tweezers. Work slowly until you've removed all of the hairs outside of your guidelines. Before working on the curve, consider taking a break if you're reaching your pain tolerance limit.
Pluck the hairs beneath the curve marker, leaving an indentation in the eyebrow. Begin plucking hairs from either side of the indentation, smoothing the curve. Leave the inner portion of the eyebrow thickest and make the outer point thinnest. This creates a natural and curved appearance out of your straight eyebrows. Be mindful of how much hair you remove and keep each eyebrow even. To make the eyebrows more dramatic and arched, taper the hairs on the top as well.
Wash away your guideline marks, smooth the hairs and make any small touch ups to your eyebrows' shape with the tweezers.