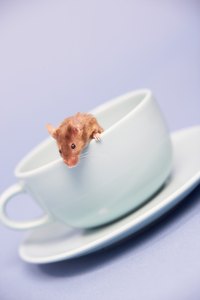 Mice may be cute, but when they move in with you they are pests. A population of mice is especially troublesome in an office. Mice are unsanitary. If a client should happen to see mice, it may be the last time you see that client. Mice are nocturnal animals, so it is likely you will detect signs of an infestation before you spot one of the rodents. Mouse droppings and small holes chewed in bags or boxes of food are two indications that you have mice. A musty odor or small nests made of shredded paper in hidden spots in the office are also signs of mice, but you can often drive mice away with peppermint oil instead of resorting to traps or poison.
Things You'll Need
Peppermint oil
Mint plants
Locate the entry points mice use to get into your office. Any small opening, such as a loose cover on an electric outlet or ventilation duct, is a highway for mice. If you have trouble finding entry points, spread a thin layer of baby powder on the floor near likely spots and leave it over night. In the morning, you'll likely find mouse tracks. The tracks will help you find entry points.
Soak cotton balls in 100-percent pure oil of peppermint. Place the balls at the entry points. Mice are repelled by the smell of peppermint and will leave.
Cultivate mint plants around the outside of your office to keep mice from returning. If your office location precludes this, try growing mint in an indoor planter. This has the added bonus of giving your office a fresh, natural scent.