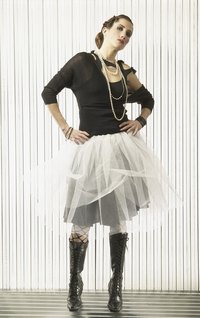 Stylishly slashed tights look sexy and trendy, and celebrate a resurgence of '80s style. You can use any color of tights or leggings, and black is always a sophisticated choice. Wear your slashed tights under a miniskirt or tunic top, layer them over tights of a different color, or pull on long boots over them for a variety of styles. To keep your tights from running or tearing excessively, start with tights in a heavyweight nylon or cotton blend.
Things You'll Need
Clear nail polish
Liquid detergent
Put on your tights, making sure that they are straight and comfortable.
Use chalk to mark where you want to cut. Your spacing will depend on your style. Start the slashes far enough down to not reveal more than you intend. For a sexy look, make cuts 2 inches wide and a half-inch apart. End the slashes above your ankle.
Create a more individual look by placing cuts randomly around the leg or with uneven spacing. Keep your lines horizontal across your leg to avoid ripping and holes.
Cut once you are satisfied with the placement of your chalk lines. Using a small scissor, cut along your chalk lines, being careful not to snip your skin.
Brush clear nail polish around the edges of the slashes to prevent ripping or runs.
Hand wash your slashed tights in liquid dish detergent and drip dry to keep them looking good.