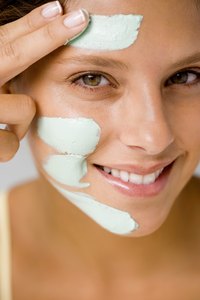 One pimple can instantly ruin your day. When a blemish appears on your otherwise flawless skin, it may be a sign that more pimples are on the way. If you have greasy skin, you're especially prone to get pimples due to the buildup of bacteria. There are many commercial pimple remedies that promise to keep the unsightly bumps at bay. However, these products can be costly and may contain ingredients that can irritate your skin. To save money, make your own all-natural pimple-prevention facial mask at home.
Things You'll Need
Place 2 teaspoons of plain yogurt in a small bowl.
Juice an orange and add 2 teaspoons of the orange juice to the bowl. Mix the ingredients until you reach a smooth consistency.
Take a warm shower to open your facial pores, or place a warm, moist washcloth over your face for two minutes. Hold your hair out of your face with a hair band.
Apply a thin layer of the homemade mask to your face. Use your fingertips to distribute the mask while avoiding your mouth and eyes.
Relax for 20 minutes while the yogurt and orange mixture cleanses dirt and debris from your pores.
Wet a washcloth with warm water and remove the mask. Rinse your face with cold water to finish your facial and close your pores. Apply the mask up to three times per week to help keep pimples at bay.