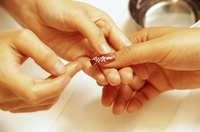 Nails are an important part of the overall beauty regimen, because your hands are always visible. Whether you are out and holding drinks or eating, or you're at work typing or writing, your nails are noticed by others. There are many options beyond the one-color nail polish to make your nails reflect your personality or mood. Nails can be painted in multiple colors, with designs, or with tiny photo prints of pets or loved ones. Using acrylic nails makes it even easier to experiment with images when you dress up your nails.
Things You'll Need
Acrylic nails
Scissors
Photos
Print photos you would like to have on your nails. Reduce the size of the photo so that it prints about 1/2 inch wide and 1 inch tall, depending on the size of your nails. You can also use small photos from magazines or newspapers.
Cut the photo to fit the entire nail surface. Cut slightly larger than the nail at first, and then trim it gradually to the right shape -- using your nail as a guide.
Apply a base coat to the nail, and let the polish dry. Apply another layer of base coat. Let it sit for about 30 seconds, then place the photo on the nail and push it into place. Do your nails one at a time, so the polish doesn't dry before you get the photo affixed.
Apply a final coat of polish. Use a clear top coat polish, so the picture shows through and is protected. You can add some sparkle by using a clear glitter polish.