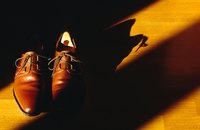 Your favorite pair of light-brown leather shoes may have been trendy last spring, but now all the magazines are showing models wearing dark-brown shoes. Don't despair. Leather dye is quick and easy to apply and can completely change the look of your shoes. In under an hour, you can be runway ready with your new dark-brown leather shoes.
Things You'll Need
Leather preparer/deglazer
Damp sponge or rag
Leather dye in your chosen shade
Stir stick
Sponge brush
Leather top coat
Apply a leather preparer/deglazer product according to the manufacturer's directions to remove residue from leather conditioners, dirt and other products that may be on the surface of the shoes. This buildup can prevent the leather dye from working properly. Use a damp sponge or rag to apply the preparer/deglazer over the surface of the shoes.
Shake the bottle of leather dye well. Use a sponge brush to apply the leather dye evenly to the surface of your shoes. Some products come with a sponge brush attached to the mouth of the bottle, so all you need to do is turn the bottle upside down and rub the dye into the leather. Allow the dye to dry thoroughly.
Apply a second coat of dye if desired. This depends on how dark you want your shoes to be. Allow the second coat of dye to dry thoroughly.
Apply a top coat to your shoes to give them a more polished look and to protect the color. There are a variety of top coats available from matte finish to waterproofing. Choose a top coat that suits your needs. Allow the leather to dry thoroughly before wearing the shoes.