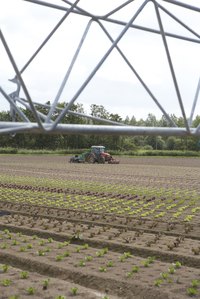 A ditch plow is a big plow. A human or horse-drawn plow makes a single furrow on each pass. A tractor-drawn plow usually makes a few furrows – each deep enough to plant seeds – on each pass over the field. Today, ditch plows are always tractor-drawn and make one very deep furrow – a ditch. Ditch plows are used to make the ditches along the sides of roads and for making irrigation ditches. Ditch plows are energy-intensive devices. Before tractors were invented, they were powered by teams of oxen. Although there are commercially available ditch plows, most farmers make their own.
Things You'll Need
Large wheeled single plow
Horizontal scraper
2 wing blades
Steel rods
Welding equipment
Build a steel frame around the plow that is large enough to support the two wing blades. The ditch will start with the plow, the horizontal scraper will make the bottom of the ditch, and the wing blades will make the sides of the ditch. The steel frame should be made on a wheeled plow trailer and be just wide enough, and just tall enough, to support the wing blades.
Mount the horizontal scraper just behind the upward sweep of the main plow. Weld the horizontal scraper in place. The horizontal scraper should be a little longer than the width of the ditch you want.
Weld the "wings" to the frame – in front of the scraper -- at an angle that matches the angle you want the walls of the ditch to have. If the walls are vertical, the flowing water will undercut the walls, but if the walls slope away from the center of the ditch, the rapid flow will be in the middle of the stream and the slow-moving water at the edges of the stream will protect the walls.