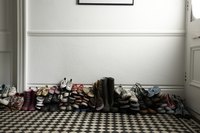 Shoes don't require the same level of care as a silk shirt, for example, but they do need some help to look their best. Most shoes benefit from regular brushing and a wipe with a soft, damp cloth, regardless of their style or materials. However, sometimes you'll find that your shoes have acquired a distressingly ugly stain or scuff mark that requires urgent attention. Heels are especially prone to this, since they often collide with other surfaces.
Things You'll Need
Shoe brush
Damp cloth
White rubber pencil eraser
Baking soda
Kneadable pencil eraser
Brush the shoe to remove any dust and loose soil.
Wipe the heel gently with a damp cloth and examine the stain. If it's a scuff from your other shoe, dry the area thoroughly and use a white rubber pencil eraser to rub the scuff mark. Often, this will remove it.
Moisten the corner of a cloth and shake a small amount of baking soda on it. Gently scrub the scuffed area with the baking soda to loosen the stain, and then wipe it clean with another portion of the cloth.
Pull scuffs and stains from a suede shoe's heel using a kneadable pencil eraser, which is available at any art supplies store. Knead a small ball of the eraser material and press it firmly to the affected area. Lift the eraser away carefully. Repeat the process until the stain or scuff has been removed.