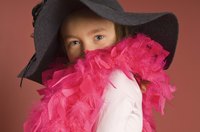 In vintage movies and newspaper photos, hats are worn by almost everyone, male or female. In the 21st century that's no longer the case, but hats are still an important fashion accessory. A well-made hat, whether constructed of felt, leather or cloth, can last for many years if it's properly cared for. Hat boxes and hat stands help them retain their shape, and regular cleaning prevents wear and keeps them attractive. The most crucial area to maintain is the hat's brim, which is most likely to attract dirt.
Things You'll Need
Brush
Towel
Low-tack masking tape
Wash and dry your hands thoroughly before handling the hat to avoid soiling it further.
Brush the brim in a counterclockwise direction to remove loose dirt or soil. Use a soft brush for felt or a stiff brush for suede.
Turn the hat over and repeat on the underside of the brim. If the brim is shaped into a curl, roll a small towel and tuck it into the curl to prevent the hat from losing its shape as you press with the brush.
Remove stubborn lint from the hat with a wide piece of painter's low-tack masking tape. Press the tape over the area with lint, then remove it to lift the lint away.
Wash sweat stains from the hatband carefully with a damp cloth dipped in a mild solution of baby shampoo. Take care not to make the hat itself wet as you work.