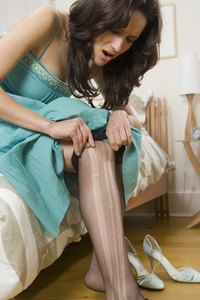 Ripped jeans were a trend of the 1980s, and gave way to other forms of torn leg wear in the 1990s: the ripped and laddered stocking look. With origins in the '90s grunge fashion and music movement, ripped stockings still are seen today on fashion runway models and celebrities, such as singer Ke$ha. Whether you are going as the pop princess for Halloween or you are simply looking to make a fashion statement of your own, achieving the ripped stocking look is easy and only takes a few minutes.
Put the stockings on your legs. It is much easier to make rips in stockings while wearing them and it's easier to position the rips in the correct place. Avoid making cuts too high or too low. Making cuts around the feet will result in discomfort from toes getting stuck in various holes.
Use a seam ripper or a pair of scissors to make rips in your stockings. Hold a piece of the stocking away from your leg as you make cuts to avoid injury. There is no wrong place to start; make cuts around the thighs, calves and sides of your legs. Make a small snip with your scissors or seam ripper while holding the stocking away from you, and use your fingers to widen the cut. Pull the stocking in vertical directions around the top and bottom of the hole to create a laddered effect.
Make as many holes and runners in your stockings as desired. Create wider holes around the knees and front thigh areas, runners down the back calf area and holes of varying sizes around the sides of the legs and front calf area.