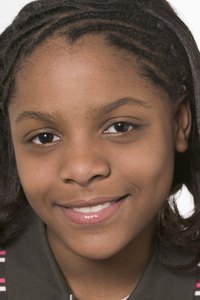 A weave can instantly create the illusion of having full, long hair. Weave tracks, also known as wefted hair extensions, are commonly cut to fit the width of the head, after which they're sewn onto the natural hair. Some people prefer to flip the weave track. This means that the entire weave track is used, and instead of the track being cut to the width of the head, it's flipped over at the side of the head. You can continue sewing without having to switch to a new weave track.
Things You'll Need
Hair clips
Curved weave needle
Braid the hair of the person who wants the weave put in. Make horizontal cornrow braids, from one side of the head to the other side.
Drape a weave track over the lowest cornrow at the back of the head. Use a hair clip to hold the track in place.
Thread a curved weave needle with weave thread in the color of your weave. Make a knot at the end of the thread.
Sew the weave track to the cornrows. Stick the needle through the lining of the weave track and under or through the cornrow. Twist the weave thread around the needle two times as it emerges from the hair. Work from one side of the head to the other side.
Flip the remaining weave track when you get to the side of the head. Fold the track backward and bring it up to the next cornrow, so it can form another layer of hair. Sew the track to the cornrow in a similar fashion as before. Keep sewing and flipping the weave track until it runs out.
Position a new weave track directly next to the end of the first weave track. Sew and flip the track in a similar way as you did the first track.