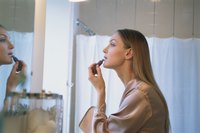 While lipstick is an attractive way to draw attention to your lips, having a lip stain that results from wearing the lipstick is less than desirable. Lip stain is the residue left behind by the lipstick and is often a nuisance if it cannot be removed. Lipstick often sticks to your lips and makes their surface look uneven. Fortunately, there are ways to remove lip stain so that your lips are residue free and supple after wearing lipstick.
Things You'll Need
Petroleum jelly
Cloth or tissue
Spread a light layer of petroleum jelly over your lips. Make sure that you only spread the jelly over your lips, and not the skin around your mouth.
Allow the petroleum jelly to sit on your lips for five minutes.
Wipe the jelly off with a cloth or a thick tissue. Rub your lips with the cloth or tissue until the lip stain is gone.
Place lip balm on your lips to ensure that they are moisturized.