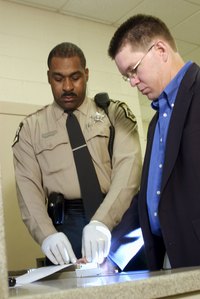 Like many other professions within the field of criminal justice, the outlook for sheriffs is promising. There were 661,500 sheriffs employed in the United States in 2008, and that number is expected to grow to 718,800 by 2018 – a 9 percent increase, according to the U.S. Bureau of Labor Statistics. The need to maintain order and protect life and property by enforcing local, state and federal laws remains strong, not only because of population growth but because of the country's ongoing commitment to protecting the homeland.
Consult the country's go-to source for salary information: the U.S. Department of Labor, Bureau of Labor Statistics. Study the numbers, for they vary, depending on the industry and geographic location.
Type "sheriff" in the upper-right hand corner of the main page, where it says "search bls.gov".
For the 644,300 sheriffs employed in the U.S. as of May 2010, the mean annual salary was $55,620.
Begin your salary calculation by reviewing the industries that employ the greatest number of sheriffs and what they pay. In local government, sheriffs make an annual mean salary of $55,710; in state government, $58,200; in the federal executive branch, $51,590; in colleges, universities and other professional schools, $46,560; and in community colleges, $43,110.
Compare that information with the five top-paying industries for sheriffs: state government, which pays an annual mean salary of $58,200; local government, $55,710; specialty hospitals, excluding psychiatric and substance abuse hospitals, $55,560; general medical and surgical hospitals, $53,520; and the U.S. Postal Service, $52,170.
Review the states that employ the highest number of sheriffs and their annual mean salaries. They are California, $77,290; New York, $60,270; Texas, $50,440; Florida, $55,840; and Illinois, $66,680.
Compare those numbers with the states that pay sheriffs the highest annual mean salary. The five top-paying states are New Jersey, $79,300; California, $77,290; the District of Columbia, $67,560; Illinois, $66,680; and Nevada, $65,840.
Notably, the five top-paying metropolitan areas for sheriffs are all in California. They are San Jose-Sunnyvale, $96,330; Oakland-Fremont, $86,660; Santa Anna-Anaheim-Irvine, $84,850; Santa Cruz-Watsonville, $84,580; and Los Angeles-Long Beach, $84,580.
Refine your salary search further by clicking on the state of your choice in the map of the United States or by scrolling down one screen below to click on a highly detailed, county-by-county breakdown of annual mean salaries for sheriffs.
Crunch the numbers with your prospective employer and/or human resource professional to come to terms on a fair and competitive annual salary.