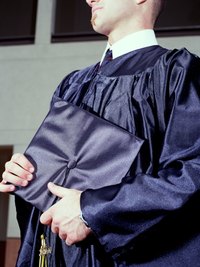 Motivational speeches are meant to be refreshing, energetic and empowering to the audiences to which they are delivered. Information provided in a motivational speech to employees is meant to be a driving force to success in the workplace and in society. Motivation is important to the success of any organization. A motivated workforce is more cohesive and productive. A motivational speaker should have great communication skills and be charismatic and eloquent to motivate others effectively.
Prepare and research adequately for the motivational speech you are to give. Thorough knowledge and understanding of the topic not only endears you to the audience but also enhances your credibility to the employees you are motivating. Find out about the employees you are going to talk to, what their duties are, what their level is in the organization's hierarchy and what their expectations are. Practice your speech before presenting it to the audience by reading it aloud to a friend and requesting him to highlight areas for improvement.
Adopt a strong stage presence by dressing appropriately and articulating your speech with gestures and maintaining eye contact with your audience. Be relaxed and maintain a positive attitude throughout the speech. The positive attitude radiates to your audience making them interested in your presentation.
Speak clearly and confidently. Avoid shouting so as to be heard. Use the right tone and proper diction in delivering your speech. This enables you to get your message out effectively. Express your ideas clearly with relevant pauses so as not to lose the audience or confuse them.
Use key, actionable verbs in your speech. The aim of a motivational speech is to get people to act: it is a call to action. Avoid passive language as it is weak and does not help in motivation. Avoid using long sentences. Break them up into short clear, understandable, yet forceful, sentences.
Highlight success stories of employees within the organization in your speech. This presents the employees with examples of success within their organization. This also motivates employees to emulate their successful colleagues. Also highlight occasions of failure within the organization. People learn from mistakes and lessons learned from failure are an important motivating factor in organizations.
Conclude your speech within the required time. Avoid going beyond the allotted time as the audience becomes uncomfortable and loses interest in your speech. Ensure you have prepared your speech ending well in advance. The speech should not end flatly leaving the room silent. Motivational speeches should end with a punch that will leave the audience motivated and raring to go.