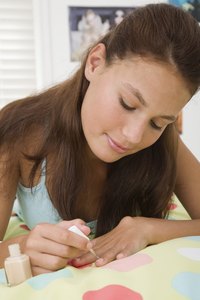 Whether you refer to it as "fading," "gradient" or "ombre," this nail design looks more difficult than it actually is. With a dark layer of color near the base of your nails fading into a light layer of color at your tips, the design adds a bit of depth and dimension to your fingertips. The design can even be reversed, with the darker layer of polish at the tips of your nails and the lightest layer near your cuticles.
Things You'll Need
Nail-polish remover
Cotton swabs
Cuticle stick, wooden
Olive oil or cuticle cream
Nail buffer
Base coat
Top coat
Nail polish in desired color
Sponge
Plastic plate or bowl
Paper towel
Remove any old nail polish from your fingernails with a cotton swab and polish remover. Clean and dry your hands thoroughly, paying particular attention to the nails. Once your hands are dry, do not apply lotion.
Smooth your nails with a buffer. Rub the buffer gently along the tips of your nails to remove any rough edges. Then, buff the surfaces of the nails to achieve a flat and smooth surface for painting.
Rub a small amount of olive oil or cuticle cream onto your cuticles. Use a wood cuticle stick to gently push your cuticles back. After a minute or two, wipe away excess oil or cream with a cotton swab soaked in nail-polish remover.
Apply a thin base coat of clear polish to nails. This step gives your colored polish a surface to hold on to. When the base coat is applied properly, it prevents streaking.
Pour a small amount of your desired nail-polish color into a disposable plastic bowl or plate. Ensure that the surface cannot soak up the nail polish, like a paper plate or paper towel would.
Dip the corner of your sponge into the polish. Ideally, use a sponge with a compact texture and small holes. Blot the sponge onto a paper towel to remove excess polish from its surface.
Dab the sponge onto the entire surface of your nail, applying a thin coat of polish across the entire nail. Allow this layer of polish to dry completely before moving onto the next layer; this might take one or two minutes.
Apply polish to the corner of your sponge again and remove excess polish by blotting on a paper towel.
Dab the sponge back onto your nails, beginning at the cuticle and working toward the tip of the nail. This time, stop just short of your nail tip. Again, allow this layer of polish to dry completely before moving onto the next layer.
Continue repeating Steps 8 and 9 until you achieve the desired fading effect. With each layer of nail polish, stop the layer just short of the previous layer. This technique helps you achieve the gradient or fading effect.
Apply a final top coat of clear polish once all layers of your colored polish have dried. Let this layer air-dry as well. Avoid blowing on your nails to help them dry – this only causes air bubbles to develop on your nails.