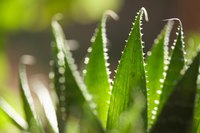 Exposure to the oily sap of poison oak from its leaves, stem roots, fruit and flowers can lead to skin irritation. According to DrWeil.com, 50 to 85 percent of the population is allergic to poison oak which can cause more severe reaction to exposure. Aside from swelling, other symptoms include blisters, itching, burning skin and redness. Being afflicted by poison ivy is especially worse when its on your face because of the sensitivity of the skin around the eye and the eye itself.
Things You'll Need
Mild gentle soap
Cool compress
Aloe vera gel
Hydrocortisone cream
Wash the affected area with lukewarm water and mild gentle soap. Avoid getting soap in your eye. Washing removes any leftover trace of the irritant that may still be on your skin.
Apply a cool compress to the affected area for 15 to 30 minutes several times each day.
Apply aloe vera gel to heal affected skin and to sooth the swelling and irritation.
Wait for two days and observe the affected area. If it's not healing, apply a little bit of hydrocortisone cream but be careful not to get any in your eye. This mild topical steroid can speed recovery and reduce inflammation. Carefully follow the directions as instructed on the label and avoid overuse.
Consult your health care provider if swelling persists after two weeks. Contact your doctor immediately if your condition worsens.