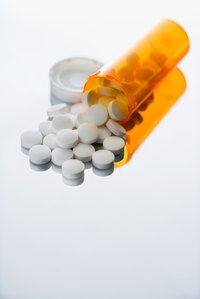 After the events of September 11, 2001, the Transportation Security Administration, or TSA, implemented numerous rules and regulations in order to guarantee safe air travel for all passengers. It's important to be cognizant of these rules before you board the plane, lest you are forced to confiscate any items when you go through security checkpoints at the airport. Insofar as medications are concerned, you can bring any medication with you onto the plane that you need as long as you adhere to the strict guidelines of the TSA.
Things You'll Need
Preparations and Planning
Contact your doctor before you travel so that she knows how long you will be away. Make sure to do this several weeks before you leave so that she can make a note of when and where you're going and when you plan to return.

Calculate how much medication you will need to bring with you. If you're going on a short trip, bring a standard month's supply of medication with you in case you're unexpectedly held up at your destination. If you're going on a long vacation, bring the amount of medication that you will need.
Pack your medication in labeled bottles that are safe for air travel, as they were given to you by your doctor or pharmacy. This is especially important for controlled substances and liquid medication that exceeds the three-ounce liquid limitation imposed by the TSA.
Declare any liquid medication over three ounces to a TSA official at airport security. Legally, you can travel with more than three ounces of liquid medication that has been prescribed to you by a doctor, and it doesn't have to be in a plastic bag.