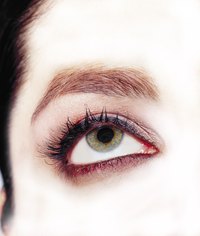 Many companies promote expensive and in some cases dangerous products to grow and lengthen eyebrows. While there is no magic remedy to grow hair faster, you can nourish existing hair to make it grow fuller and longer. By implementing simple lifestyle changes and adding a few daily regimes, you will see results in two weeks, with full results in six to eight weeks.
Things You'll Need
Overhaul your diet. Avoid heavily processed foods and switch to whole foods; fruits and vegetables high in vitamins C, A and E; and protein. Include dark green vegetables such as spinach, broccoli and kale. Add black or kidney beans three times a week for a big protein boost, as well as iron, zinc and biotin.
Sleep between six and eight hours a night. Chronic lack of sleep can damage hair -- including eyebrow hair -- making it dull and, in some cases, fall out.
Massage your eyebrows twice a day with an eyebrow brush and a small amount of olive oil. Dip your finger in olive oil and spread it on the brush. Massage the hair in circular motions toward the side of the head. Avoid getting olive oil on the skin around the eyebrow, which may clog pores.
Avoid using makeup or makeup remover over the eyebrows; harsh chemicals may damage the hair follicle. Switch to a pair of tweezers with an angled point and pluck only the hair outside the natural arch to avoid accidentally over-plucking.