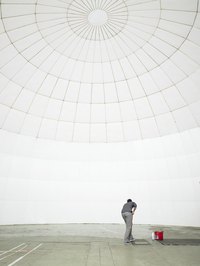 Whether you are bidding on a government contract or a general contract, the bidding process for janitorial contracts is quite similar. It places your janitorial business against similar competitors. The winning bidder needs to be able to complete the job in a timely fashion and for a reasonable cost while meeting, or exceeding, the contracted responsibilities.
Update your business plan and financial statements for your janitorial business, as these items are often required to accompany the bid proposal. Be sure the financial statements are detailed and accurate as the business's financial responsibility is often a strong consideration when determining bidding approval.
Take the time to review and analyze the bidding solicitation before beginning the bidding process. Be sure your janitorial business can meet every requirement of the janitorial bid within the terms outlined. Visit the location, if possible, to inspect the building and conditions of the floors that require servicing.
Secure the appropriate insurance before you place the bid proposal. Speak with your agent to determine the required coverages and liability limits. Be sure to present the agent with any insurance requirements listed in the janitorial solicitation to ensure that your coverages also meet those requirements.
Participate in any optional prequalification registration and conferencing opportunities related to the bid. Take the opportunity to gain a greater understanding of what the solicitor truly wants from the janitorial service.
Create a bid proposal for the janitorial servicing bid. Provide as much detail as possible in the proposal's statement of work, including the brands of cleaning materials that will be used, the servicing hours and the expected time of project completion. Address each point listed in the solicitation, and provide exact financial figures whenever possible.
Complete the bid proposal on formal bidding forms if the solicitor requires the use of formal documents, especially if applying for government procurement opportunities. Include a copy of your business plan, financial statements, insurance policies and certifications with the proposal as supporting information.