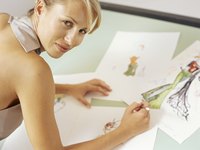 Earning a living solely from selling your fashion drawings can be difficult. If you can establish a reputation within the industry and build a good base of regular clients however, you have potential to make a decent amount of money from your work without having to take a salaried job. It's wise to make sure you have another source of income when you're starting out and establishing your name, though.
Set up a web site to showcase your work. If you don't have the skills to do so, pay a web designer to build one for you. You should also open accounts with content hosting web sites and specialist art communities such as RedBubble, Art Web and Image Kind.
Sign up with an illustration agency or add your work to stock image libraries. Although agents will take a cut of your profits, they can reach a much larger number of potential buyers than you would be able to alone.
Approach commissioning editors at fashion magazines about contributing to their publications on a freelance basis. Network at any fashion shows or events you attend and self-promote your work as much as you can. It's a good idea to have some business cards made up for such occasions. If you have a book idea based around your illustrations, contact publishers to see if they would be interested in working with you. You can also offer your services to fashion houses and retailers.
Keep control of your rights. Make sure you're not signing your work away and that you're fairly compensated for your drawings. If you've been commissioned to do an illustration, you will usually be offered a flat fee. But if a publisher approaches you about using your work, make sure you negotiate an agreement you're comfortable with and are being paid properly in line with how your work is being used.