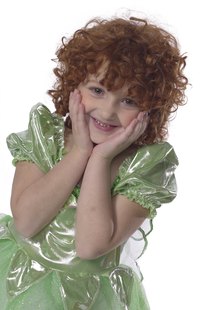 Choosing the right curling iron for your hair isn't as simple and getting a smaller barrel for short hair and a bigger barrel for longer hair. You need to take other factors into consideration such as hair texture and health, and the type of look you wish to achieve. In some cases, the look you are going for might require using more than one curling iron.
Assess the length of the hair that you are curling. Shorter hair gets the best results with a smaller barrel that measures ¾ inch to 1¼ inches. For shoulder length hair, choose a 1-inch to 1½-inch curling iron barrel; longer hair gets the best results with a 1¼-inch barrel to a 2½-inch barrel.
Consider your hair type and texture. Thin, fine hair curls best with a small barrel; thicker hair requires a larger barrel iron to achieve optimum results.
Choose the type of curls you want. Generally, smaller barrel irons create tighter, springy curls that work well for romantic up-dos. Larger barreled curling irons, ranging between 1¼ inches to 1½ inches, are excellent choices for making loose curls and waves. A standard 1-inch barrel iron will create natural looking curls and add volume to the hair.