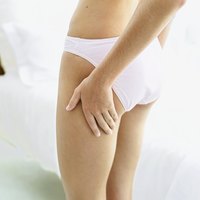 As we age, the skin loses elasticity and wrinkles begin to form on the face, arms and thighs. Wrinkles and cellulite on the back of the thighs can be difficult to remove as lumpy fat deposits accumulate in this area as elasticity decreases. Wrinkles and cellulite on the back of the thighs occur when the collagen fibers in the skin loosen and the skin loses its ability to retain water, making it look dry, dimpled and wrinkled. You can firm your thighs using diet, exercise, surgery or topical applications.
Improve your diet to reduce the fatty deposits that cause cellulite and wrinkling on the back of thighs. Opt for natural foods like fruits and vegetables, steering clear of processed foods packed with chemicals and trans fat. Less fat in your diet equals less fatty deposits in your body, including your thighs.
Begin a regular exercise program, starting small with short walks around the neighborhood. Gradually increase your activity to 30 minutes, four to five times per week. Exercise will increase your circulation, helping to deliver blood supplies to the depleted areas of collagen loss in the back of your thighs.
Hit the spa for a special thigh treatment. Many spas offer treatments that use heat, massage and suction to increase circulation to the back of the thighs.
Use firming creams specially formulated to address wrinkling and cellulite issues. There are many creams on the market that claim to firm skin, but the best way to get a good cream is to look at the active ingredients on the bottle. Choose creams with caffeine, natural cocoa, coleus extract, and active ingredients found in asthma medicine, including aminophylline and theophylline. Peptide from yeast extract has been clinically proven to increase skin respiration and may help address wrinkling and cellulite problems.