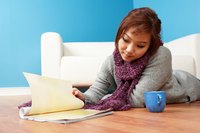 Magazines not only provide a way of passing the time on an airplane or in the dentist's waiting room, they can also provide readers with vital information and life-enriching inspiration. Whether you are launching a music magazine for teenagers, a quarterly periodical for women in a certain region, or a staid industry trade journal, having a budget in place will help give you realistic expectations, make financial decisions such as what your ad rates should be, and maybe even secure investor funding.
Decide on the basic parameters of your magazine, including size, paper type and weight, distribution area and method, type of circulation, publication frequency, editorial-to-ad ratio, and ad, issue, and subscription prices. Estimate the data that you can't verify, such as your anticipated "sell-through" rate. Sell-through refers to single copies of an issue sold through newsstands, such as grocery aisle displays. Out of the total number of single issues distributed to stores, the percentage of them that actually get sold is the sell-through rate. If you have created a business plan, you will already have determined much of this information.
Contact printers and distributors and get quotes for producing and distributing the magazine. While you could always start by contacting every printer in the area, a more efficient way to find a printer and distributor might be to contact other publications in your region -- particularly those you admire -- and find out what companies they use for printing and distribution. A university magazine or other nonprofit publication may be more open to sharing this information. Select the most competitive quote based upon service quality and price.
Create a "content plan" that will determine how many pages of each issue will be editorial content and how many will be ads. Figure out how you will get all the articles, photos and other material you will need to fill the pages and who will do the graphic design -- and how much money you will need to make all of that happen.
Make a spreadsheet showing all the direct expenses associated with producing and distributing a single issue of the magazine. Have the spreadsheet program add the expenses to come up with a total issue cost.
Calculate the revenue you expect to earn from a single issue. Revenue sources could include ad sales, subscriptions and single-copy sales (if you plan to go the paid publication route rather than the free publication route). You may wish to make several estimates: a cautious one, an average one and an ambitious one. Enter the expected revenue on another line of the spreadsheet.
Make a separate spreadsheet with all overhead and other expenses indirectly associated with the magazine, including utilities, computer programs, marketing, staff (if any) and office rental. Add up ongoing and miscellaneous expenses, estimating where necessary, to come up with the amount of overhead that will come along with each issue. The overhead per issue will vary depending upon factors such as your magazine publication frequency, location, and staffing level. Place the per-issue overhead on another line of the master spreadsheet.
Instruct the software to subtract the per-issue production expenses and overhead from the projected revenue to come up with your estimated per-issue profit -- which, at first, could be negative. Repeat the calculations for the first year's worth of issues, upping ad revenue estimates with each issue, to determine the issue with which revenues will exceed expenses.