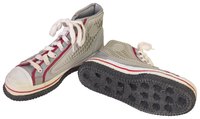 Squeakiness is an irritating and embarrassing problem common in leather shoes, including those manufactured by Nike. It is generally caused by two or more parts of the shoe rubbing together. Fortunately, it is simple to quickly solve this problem using household items. The best way to fix a squeaking leather Nike shoe is through a process of trial and error. Continue trying different methods until the squeaking in your shoe subsides.
Things You'll Need
Sprinkle baby powder inside of your leather Nike shoe.
Lift the back of the inner sole of your leather Nike shoe if possible. Sprinkle baby powder so it reaches the space beneath the inner sole of your shoe. Firmly press the sole back into place.
Examine the heel of your leather Nike shoe. If the heel is detached from the rest of the shoe above it, apply a small amount of rubber cement to the top of the heel and press it back into place. Apply pressure and hold it for several seconds while the rubber cement sets.
Rub lotion on your bare feet. Slip your bare feet into the shoes and walk around for several minutes. This will allow the lotion to work its way into the leather and condition it.