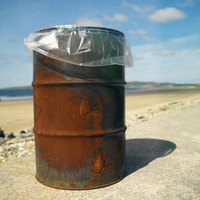 Metal drums are a vital tool for shipping liquids and hazardous materials across roads and oceans. But when the drums are not in use, they need to be stored in a way that does not take up too much space on a loading dock. Standing the drum vertically can make it difficult to find the drum you're looking for. Instead you can build a drum rack, on which you can affix a label noting what this drum is used for.
Things You'll Need
PVC pipes, 18 inches in length and 1 inch in diameter (4)
PVC pipes, 24 inches in length and 1 inch in diameter (2)
PVC pipe, 1 inch in diameter
Rubber cement
Set the four pieces of 18-inch PVC pipe horizontally on a flat work surface so that there are two rows of two pieces each. Spread the rows apart so there is about 24 inches of space between them.
Put the 24-inch pieces of pipe on the flat work surface vertically so that each of the 24-inch pieces forms an L-shape with two of the 18-inch pieces from Step 1. Then glue the pieces together into the L-shape with a liberal amount of rubber cement. Allow the cement to dry for 24 hours.
Stand each of the L-shapes on one side; that is, not on their top or bottom. Then move the L-shapes so that they are parallel to one another. Move one of the L-shapes so that it is 34 inches from the other but still parallel.
Place the 34-inch pipe horizontally between the L-shapes formed in the previous steps. Lift the 34-inch pipe up slightly so that it touches the middle bar of each L-shape to form a larger L-shape.
Cement the 34-inch bar into place in this larger L-shape, applying cement liberally at the connecting points. Allow the cement to dry for 24 hours.