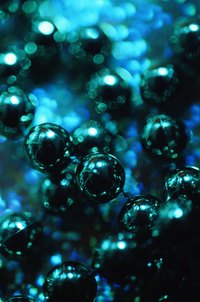 The Consumer Product Safety Commission (CPSC) mandated in The Consumer Safety Product Improvement Act of 2008 that all children's toys sold on the Internet must include a choking-hazard warning indicating the name of the choking hazard and its applicable information. The mandate took effect December 12, 2008, and applies to goods sold on auction websites and Internet marketplaces. Creating a warning label for a choking hazard must follow the specific format approved by the CPSC.
Determine which component poses a choking hazard. Common choking hazards include any small item that will fit in a child's mouth.
Insert a bullet in your word processor page and type "Choking Hazard" beside it.
Type a space after "Choking Hazard" and enter a dash mark, followed by another space.
Type the name of the choking hazard. Specify whether the toy contains the choking hazard or the toy is the choking hazard, such as "Is a Small Ball," "Is a Marble," "Small Parts," "Contains Small Ball," "Balloon" or "Contains a Small Ball."
Press "Enter" to begin a second line. Press the "Tab" key and insert a bullet.
Enter the following text: WARNING: CHOKING HAZARD – This toy is a "Name of choking hazard you entered in the previous line." If the choking hazard is a balloon, type "Children under 8 yrs. can choke or suffocate on uninflated or broken balloons."
Press "Enter," insert a bullet and type the following text: "Not for children under 3 yrs."
Begin a new bulleted line and type "Adult supervision required" if it applies.
Begin a new bulleted line and enter "Keep uninflated balloons from children" if it applies to your product.
Begin a new bulleted line and type "Discard broken balloons at once" if the statement applies.