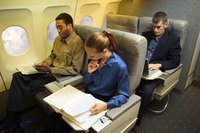 The parka that you need to keep warm on the way to the airport will be a burden when you arrive someplace hot. When flying from a cold climate to a warm one, leave bulky coats and boots behind, or put them in your checked baggage. But because planes can be cold, wear warm clothing for your flight and make adjustments to your outfit once you land.
Dressing for Men
If you can dress casually, wear pants made of lightweight fabric such as cotton. Pair them with either a collared button-down shirt or a T-shirt topped with a zip-up sweatshirt or cardigan. When you arrive, roll up your shirt sleeves and stow your sweatshirt or sweater in your carry-on. Wear canvas sneakers or boat shoes for the trip, or stash a pair of leather sandals in your carry-on and plan to change your footwear once you land. If you're a business traveler, pair khakis with a polo shirt or button-down, thin wool blazer and leather loafers or moccasins. Opt for light-colored fabrics, which feel cool in warm temperatures.
Dressing for Women
Women can use similar strategies as they travel between climates. If your pants are casual, roll up the bottoms a few times when you arrive. Alternatively, pair a long or short cotton skirt with warm tights or leggings and a cardigan. Peel these items off in the airport bathroom when you land. Ballet flats work with this ensemble and are light enough to feel comfortable in hot weather. For business casual, wear a cotton blazer over a sleeveless dress or opt for lightweight cotton pants and a gauzy blouse topped with a blazer or cardigan. Low nude heels are comfortable and appropriate for a warm climate.