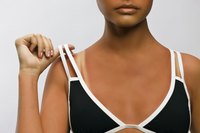 If you want the look of a tanned body without catching some rays, smooth on some sunshine with a self-tanner. To get the look of sun-kissed skin, self-tanning products will give your body a San Tropez or St. Bart's tan without requiring you to leave the comfort of your home. Whether you want a bronzed body in the winter or just need to extend the life of your spray tan, say goodbye to pale skin and hello to a gorgeous glow.
Things You'll Need
Loofah
Exfoliating gloves
Sugar or salt scrub
Razor
Water-based moisturizer
Gloves
Tanning oil, tanning mousse or tanning lotion
½ cup of sugar
1 tbsp. lemon juice
Wet your skin in the shower. Dampen your loofah or exfoliating gloves with water. Smooth a dollop of your favorite sugar or salt scrub on your body. Scrub your skin gently with the dampened gloves or loofah to remove dead skin cells.
Smooth a razor over your body to remove unwanted hair. Removing your hair before applying a self-tanning product helps extend the life of the tan on your skin.
Apply a thin layer of water-based moisturizer on skin before applying tanning product. The moisturizer will allow the tan to spread smoothly over your skin. Oil-based moisturizers may keep the self-tanning product from adhering to your skin.
Put on gloves to keep your hands from staining. Apply the product to the gloves first before smoothing the product on your skin. The type of product you use depends on how long you want the tan. If you're looking for a temporary tan that lasts only until your next shower, apply a tanning oil. For a bronzed look that lasts at least a week, use a tanning mousse or lotion.
Spread the bronzing product evenly on the front, back and sides of your body. To keep your elbows and knees from darkening too much, mix tanning mousse or lotion with moisturizer before applying.