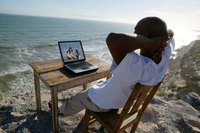 Home sweet home. People are comfortable at home where they have a strong sense of belonging. Leaving home for a prolonged period can unexpectedly turn from feelings of excitement to feelings of isolation and loss, however. Individuals who suffer from homesickness may experience a range of physical symptoms such as nausea, sleep problems and inability to concentrate. Homesick people often spend much of their time obsessing or thinking about home, rather than experiencing their new location. Keeping in touch with people from home, having a positive attitude and creating a new temporary home will help reduce the symptoms and feelings associated with homesickness.
Prepare in advance for an extended time away from home by actually spending time away from home. Get yourself out of your comfort zone in advance, so you are not shocked when you are forced to be away from home.
Obtain contact information for people you miss and keep in touch. Send postcards if you are traveling. Sharing your experiences with people you care about will make you feel better. Write letters or emails when you are feeling lonely. Or better yet, thanks to the Internet, socialize on Facebook or call back home on Skype. Your phone is also convenient for staying in touch, save for a time-zone barrier. Call home when you feel homesick.
Decorate your new place or at least settle in somewhere. Having some place new to call home — even if temporary — will help drastically with homesickness. Make the new space yours by creating an environment that is comforting and personalized. You may just end up with a second home.
Make friends and do activities you enjoy. Stay busy. While it may be difficult to prevent homesickness altogether, it helps if you are too busy in your new place to think about home. You will also miss home less if you are having the best time of your life somewhere else. Find ways to make the best of your situation away from home.
Maintain a positive attitude. Most people leave home because they are pursuing an opportunity, gaining new experience or learning new things. Remind yourself frequently through self-talk on why you are away from home. Changes can be good things when we approach them with a positive attitude. Write down benefits of being away from home on Post-it notes and post them in visible areas to remind yourself of good things.
Get help if you cannot shake the negative feelings of being homesick. Professional counselors are familiar with homesickness and can be supportive in helping you deal with your feelings. Homesickness can cause some college students to dropout or cause people to miss out on valuable experience. Don't let this happen to you. Get help before giving in. While you can always go home, current opportunities may not always be available.
Plan visits home. Visiting home can help reduce homesickness when you are away. Knowing when you will be home again helps ease anxiety. Avoid the temptation to run home when homesickness kicks in; instead, be excited for your planned visit home.